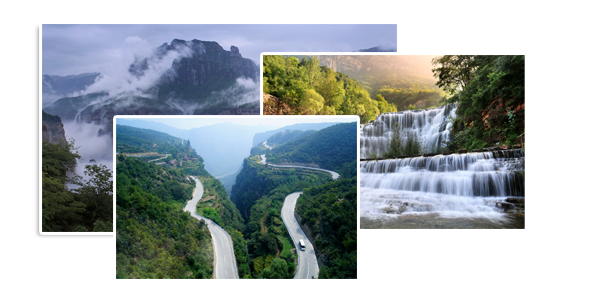 Taihang Mountain Grand Canyon is within the boundary of Shibanyan Township, Linzhou City of Henan Province which locates in the northwest of Henan province and the east of South Taihang Mountain. It extends 50 kilometers from north to south, 1.5 kilometers wide from east to west, 800-1739 meter altiude, the relative elevation is over 1000 meters.The total area of the scenic spot is 89 square kilometers, and the vegetation coverage rate is 90%,which earned its natural oxygen bar reputation. Within the boundary, peaks upon peaks, huge rocks resembling hanging swords, platforms, porges, waterfalls and springs, are the typical representative of the "North Male scenery"
The central scenic spot in Taihang Mountain Grand Canyon includes: Peach Blossom Valley,hundred miles gallerries-Taihang Gorge-Tahang sky road, the soul of Taihang-Wangxiangyan. People describe the Taihang Grand Canyon that " green cliff as lady's eyebrows, red cliff as sunrise, birds in the tree, abounded in green water, the unique scene, are known to the world", different scenic views in four seasons, fascinating.
Houses and building within the canyon use local material, such as stone street, stone yards, stone walls, stone pillars, stone stairs, stone floor which being integrated with the nature, antique and ruminate. The transportation here is convenient and reception facilities are fine, it is a good place for leisure and keeping healthy, rock climbing, spending summer vacation, sketching, ancient windings, and sightseeing.